First Visit
Local Boone & Wilkesboro Orthodontist For Kids, Teens & Adults
At OP Smiles we strive to provide our patients with highly specialized and individual orthodontic care. We arealways excited about meeting new patients during their first visit to our office. During your initial appointment, our orthodontists and team will be sure to provide you with all of the important information regarding your potential treatment.
What To Expect During Your First Orthodontic Exam
During your first visit, we will thoroughly examine your teeth and bite relationships, as well as discuss with you your potential treatment options. Our orthodontist, Drs. Michael Mayhew and Nicole Scheffler, provide patients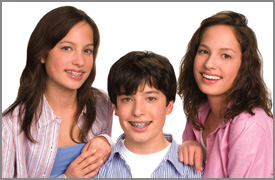 with various teeth straightening options including Damon braces, Damon Clear braces, Invisalign® and Invisalign® Teen. This important 60-90 minute visit will give us insights into your orthodontic needs.
We understand that each of our patients is unique, as are their orthodontic needs. During this initial examination we will address any questions that you may have, and encourage you to ask questions as well. Here are some of the more common questions that we receive, and will be sure to answer for you:
Is there a condition that orthodontics can address?

Is treatment needed now, or should treatment be delayed until appropriate growth, tooth eruption, or other factors have occurred?

What treatment procedures will be used to correct the problem?

Do any permanent teeth need to be removed?

How long will treatment take?

How much will it cost?

What are my payment options?
During the initial examination, we will address specific areas after careful analysis of the diagnostic records. We feel it is important to analyze each patient's specific needs, because in-depth planning leads to superior results and higher patient satisfaction.
Your orthodontist will also discuss treatment options, time frames, and financial arrangements. We insist that our patients leave the office with a clear understanding of their specific needs, what the treatment will consist of, and how long it is expected to take.
Help Us Make Your Appointment More Efficient
Please assist us by providing the following information at the time of your first visit:
Any panoramic x-ray taken within the past 6 months.

If you have orthodontic insurance, please bring your insurance card. By providing this information at the first visit we will be able to give you information on your orthodontic benefits you may have.

Prior to your appointment please complete your patient forms online from the comfort of your home.
Come See Us For Your First Visit!
We'd love to show you how we can help you achieve the smile of your dreams! Please contact us at our office, and one of our team members will be happy to work with you to schedule an appointment that fits within your schedule.
We look forward to meeting you soon and getting you on the bath toward a more healthy and beautiful smile!
---
Drs. Mayhew & Scheffler believe that financial considerations should not be an obstacle to obtaining the highest quality orthodontic treatment. We utilize OrthoFi to offer customizable payment options: zero interest financing, a discount for payment in-full at the start of the treatment, and the ability for the patent to select their own monthly and down payment amounts. OrthoFi also allows you to easily manage your account online, including making online payments, viewing invoices, and printing receipts.