Patient Rewards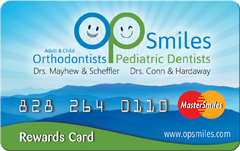 Click on the card to enter your Patient Rewards Hub
Introducing our New Orthodontic Patient Rewards Program!
Creating a beautiful smile requires both a commitment from us and the cooperation of you, our fabulous patient. With that in mind, we are excited to introduce our Orthodontic Patient Rewards Program! This Patient Rewards Program was created as a way to recognize all of your hard work by awarding you with fantastic rewards as you progress along your orthodontic journey.
You may redeem the points that you earn for great prizes on www.opsmiles.com. Look for additional contest information at our office, on Facebook, or on our website for ways to earn even more points and to see the latest updates in our Patient Rewards Program!
EARN POINTS ON YOUR PATIENT REWARDS CARD
During each appointment, points will be awarded for outstanding cooperation in each of the following areas. To redeem your points, visit us online or speak with any of our team members!
Being a Great Patient Has Its Rewards
| | |
| --- | --- |
| Being on time | Nothing loose or broken |
| Wearing your Simister shirt to appointment | Bringing Patient Points card to appointment |
| Excellent oral hygiene | Having an appointment during school |
Great Ways to Earn Extra Points
Referring a friend
Checking in on Facebook at your appointment
Participating in contests
LIKE practice Facebook page
Office contest winner
Bring a friend with you to your appointment
Having an appointment on your birthday
Online practice review
Following us on Instagram
Following us on Twitter
And much more!
Fun Happens During Pre-Orthodontic Treatment
| | |
| --- | --- |
| Being on time for your appointment | Wearing your OP Smiles t-shirt to appointment |
| Clean teeth and healthy gums at your appointment | No loose or broken appliances |
| Wearing retainer/appliance as instructed | Each baby tooth lost in office |
| Write a note or draw a picture about us | Participation in an office contest/activity |
| Graduation from Pre-Ortho Club to Active treatment | Teeth cleaning card signed by dentist |
Seeing your Dentist Regularly is Important
| | |
| --- | --- |
| Dental cleaning/exam | No cavities |
How to Redeem Points:
It's easy to redeem your rewards points for great prizes, play games, enter a contest, and more! Simply click on the Patient Rewards Card, enter your 16-digit membership number (username) on the back of your card and your 4-digit password and enter into the fun world of our Patient Rewards Hub!
SAMPLE GIFT REDEMPTION MENU
Gift Card Amount
Prize Option Examples
$10
iTunes, Claire's or Starbucks Gift Card
$15
Amazon, Baja Fresh or Dunkin' Donuts Gift Card
$25
Aeropostale, Target or GameStop Gift Card
$50
Best Buy, Groupon, Lowes or Marriott Gift Card
$100
Abercrombie, Bloomingdales or Sports Authority Gift Card

(Log into your Hub to see all gift options available)
REWARD RULES
Reward card must be present to receive reward points
Replacement cards are available for a 10 point purchase.
Rewards are given at regular scheduled appointments.
Points cannot be transferred to another patient.
Points or gift cards are not redeemable for cash.
Points and prizes are subject to change at anytime.
Dental reward points are available when returning a completed dental certificate