Toddler Dental Care
The ADA recommends parents take children to the dentist by the child's first birthday. In addition to checking for decay and other possible problems, the dentist will teach you how to properly clean your child's teeth daily, evaluate any adverse habits such as thumb sucking, and identify your child's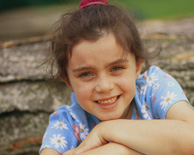 fluoride needs. Begin brushing your child's teeth with a little water as soon as the first tooth appears. If you are considering using toothpaste before age two, ask your dentist or physician first.
Parents need to supervise tooth brushing to make sure children over age two use only a pea-sized amount of fluoride toothpaste and avoid swallowing the toothpaste. Children should be taught to spit out remaining toothpaste and rinse with water after brushing. Most children will be able to brush on their own by age six or seven. Parents should be using floss or an interdental cleaner on their child's teeth as soon as any two teeth touch. Cleaning between the teeth is important because it removes plaque where a toothbrush can't reach. Brush your child's teeth twice a day unless your dentist recommends otherwise.
Children should know that the dentist is a friendly doctor who will help them take care of their teeth. Be positive and try to make dental visits an enjoyable experience for your child. Set a good example by brushing your own teeth twice a day, using floss or an interdental cleaner between your teeth once a day and visiting your dentist regularly. Attitudes and habits established at an early age are critical in helping your child maintain good oral health throughout life.