Types Of Braces
Expert Orthodontic Treatment In The Boone and Wilkesboro, North Carolina Area
Drs. Mayhew, Scheffler, Conn, and Copley believe that anyone can achieve a healthy and beautiful smile at any age. Our practice provides expert and specialized orthodontic treatment to patients of all ages in the Boone, Wilkesboro, West Jefferson, Lenoir, NC and Johnson City, TN area.
Orthodontics has seen a lot of advancement over the years, and the braces of today are smaller and more efficient than those of a decade ago. We are happy to offer our paitents the latest and greatest in braces technology including:
Damon® Braces
Damon® Clear Braces
Invisalign®
We are proud to say that Dr. Michael Mayhew and Dr. Nicole Scheffler are Advanced Damon® Providers, so you can be assured that you are receiving orthodontic treatment from the best around!
Please read through the below information to learn more about the different teeth straightening options that we offer!
AcceleDent will accelerate your treatment time!
You want to improve the look of your smile, but does the thought of spending months, or even years, in braces sound like too much of a hassle? With the AcceleDent® System, you can now reduce the time of your orthodontic treatment by 38 to 50%! Using this pain-free, easy appliance, you'll achieve your most perfect smile in no time at all.
How does AcceleDent work?
AcceleDent is a light, comfortable, and hands-free appliance that is used 20 minutes per day as a complement to braces to accelerate tooth movement. The patented technology gently vibrates the teeth and surrounding bone, allowing teeth to move more freely. The best part of the AcceleDent System is that it's completely safe! You may experience a slight tingling sensation, much like that of the vibration of an electric toothbrush, but it should diminish after you become accustomed to using the appliance.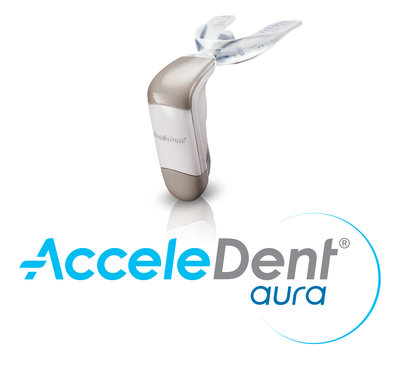 The benefits of AcceleDent will make you smile!
You'll accelerate your orthodontic experience without sacrificing aesthetics

AcceleDent can be used for adolescents, teens, and adults, and it is completely safe for patients of all ages.

The AcceleDent appliance is lightweight and comfortable. You may even forget you're using it!

The hands-free design allows you to achieve a beautiful, straight smile faster than you ever thought possible – even while reading, watching television, listening to music, or doing school work.
Metal Braces
Metal braces are still the most popular form of orthodontic treatment. The metal braces of today are made of high-grade stainless steel and are smaller, more attractive and more efficient.
Damon® Braces
Damon® Braces are the latest in braces technology. This system uses a "sliding-door" bracket system which is also known as "self-ligation". This allows the wire to slide back and forth within the bracket – which leads to a more efficient treatment. Due to the self-ligation technique, Damon® braces do not use elastic or steel ties, which creates less friction and greater comfort through out treatment. Another added benefit to the Damon® system is that treatment time can often be reduced in comparison to traditional braces, which ultimately means less trips to the orthodontist for you! Click here to learn more.
Damon® Clear Braces
Damon® Clear, just like the metal Damon braces are also a self-ligating brakcet system. However, this particular bracket is made from polycrystalline alumnia (PCA) material that is resistant to staining from coffee, mustard, red wine and other highly pigmented foods. Damon® Clear does not requite elastic ties and offers a more comfortable and fast treatment. Click here to learn more.
Invisalign®
They Invisalign® System is the revolutionary way to straighten your teeth almost completely invisibly. With Invisalign®, a series of custom clear aligners will be created for your specific orthodontic needs with the use of 3D computer generation. The aligners are meant to be replaced in phases to gradually move your teeth into proper alignment, and are only available to adult and teen patients with certain orthodontic problems. Schedule an appointment with us to see if you are a candidate for Invisalign®.
Schedule Your Braces Consultation
Our orthodontists want to show you how you can benefit from orthodontic treatment, and the options that are best for you. Please contact us at our Boone, NC office and one of our team members will be happy to schedule your first visit with us, you may also request an appointment on our website.
We look forward to meeting you and showing you the full potential of your smile!